The vein center has accessible locations in Paramus, Clifton, and Woodland Park.
The Spider Vein and Varicose Vein Treatment Center in New Jersey falls under the umbrella of VIP Medical Group, a collective of board-certified vein doctors and IAC-accredited vein centers across the US. The vein treatment center currently has offices in multiple states, including New York, New Jersey, California, and Texas. As a part of VIP Medical Group, the vein center is required to meet certain criteria regarding the quality of their vein doctors and treatments. This review determines if they truly live up to their reputation.
The Spider Vein and Varicose Vein Treatment Center, New Jersey, has three locations within the state — Paramus, Clifton, and Woodland Park.
The Paramus vein center is located at 140 NJ-17 #103, just off the garden state parkway and a short drive from Garden State Plaza.
The Clifton vein center is located at 1117 US-46 Suite 205, just off garden state parkway and past the Ford dealership on route 46-E.
The Woodland Park vein center is located at 1167 McBride Ave Suite 2, a short drive from Garden State Plaza.
Anyone familiar with New Jersey will immediately realize that the vein center has occupied prime real estate in thriving locations. They're strategically positioned close to the major garden state parkway, making them accessible to patients from all corners of New Jersey. However, it's curious that all their vein centers are located in Bergen and Passaic Counties in Northern New Jersey instead of spreading out a little more, but in any case, you can't fault them on location.
Wherever you may reside, you'll surely have no trouble accessing their vein centers in New Jersey.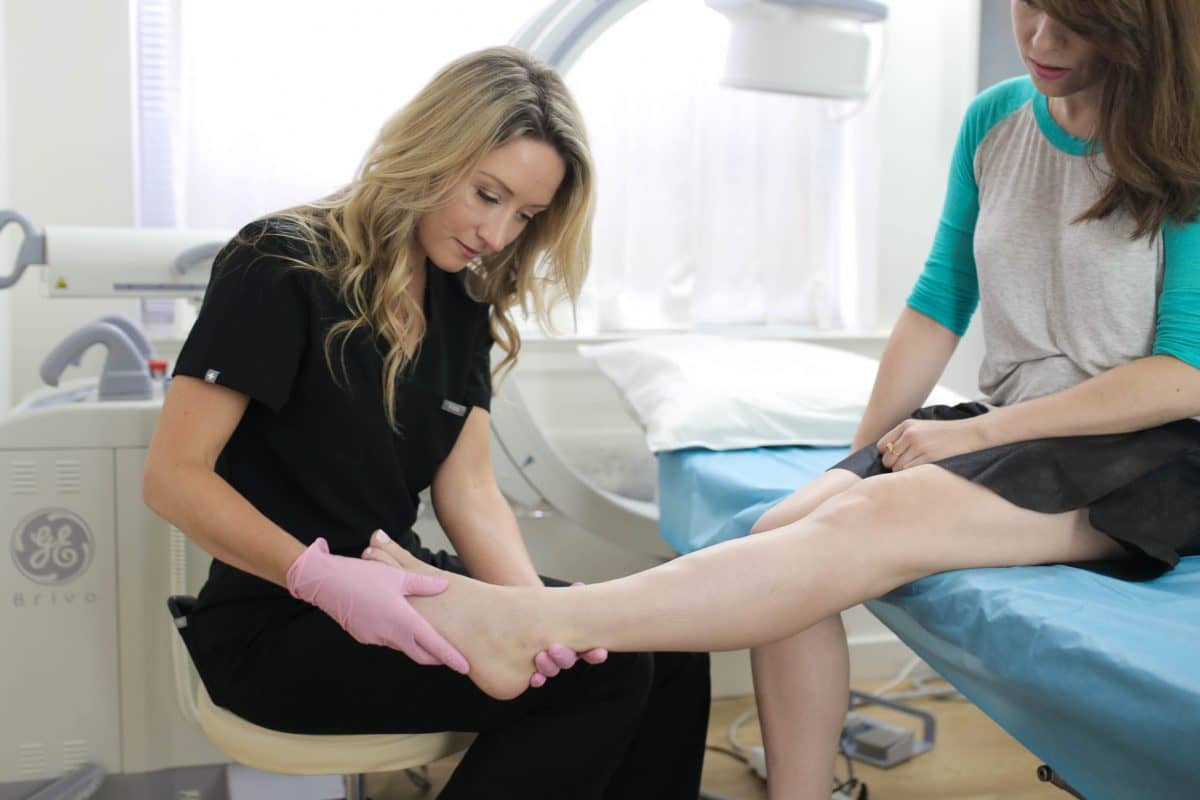 The vein treatment center is led by board-certified, Yale-trained vascular surgeons and vein experts.
When it comes to vein treatment centers, you have to pay special emphasis on their vein doctor's certifications. Vein treatments can be performed by all doctors, including general physicians, podiatrists, dermatologists, and everyone in between. However, just because all kinds of doctors can perform vein treatments doesn't mean they should.
Venous disease is a complex field that requires a specialized understanding of blood vessels and the human circulatory system. However, vein treatments are often offered by inexperienced, non-specialist doctors in medical spas. As such, you must always ensure your vein center has certified and experienced doctors specializing in the minimally invasive treatment of spider veins, varicose veins, and chronic venous insufficiency.
The vein treatment centers in New Jersey are led by two vein doctors — Dr. Todd Kobrinski and Dr. Sareh Rajaee. And they both meet the requirements mentioned above.
Dr. Todd Kobrinski specializes in venous medicine and cardiovascular disease, so he's uniquely skilled at treating vein problems related to the circulatory system. He completed an impressive eight years of post-graduate training through the Icahn School of Medicine at Mount Sinai St. Luke's Roosevelt Hospital Center in New York City, which included three years of Residency in Internal Medicine and five years of Fellowships in Cardiovascular Disease and Clinical Cardiac Electrophysiology.
Dr. Sareh Rajaee has a uniquely star-studded resume, having trained at the country's leading medical institutions. She obtained her medical doctorate from the Alpert Medical School at Brown University, and her Master's in Public Health from the Harvard School of Public Health. Furthermore, she completed an integrated Vascular Surgery Residency at Yale New Haven Hospital. She specializes in minimally invasive treatments for vein problems and venous insufficiency. Dr. Rajaee is also board-certified by the American Board of Venous and Lymphatic Medicine.
Both Dr. Kobrinski and Dr. Rajaee have the perfect credentials to provide minimally invasive vein treatments at their vein centers in New Jersey. You're in great hands.
The vein center emphasizes the need for comprehensive diagnosis and treatment.
The vein centers in New Jersey place a strong emphasis on comprehensive vein care. For anyone dealing with vein problems, comprehensive vein care is essential. Unfortunately, most patients seek vein treatments from medical spas that only treat superficial symptoms rather than performing a thorough evaluation.
At the vein centers in New Jersey, you can be assured of a comprehensive evaluation and diagnosis. The vein doctors will examine your leg veins, review your medical history, and discuss your symptoms. They'll also perform advanced vascular imaging tests, such as duplex ultrasound, to visualize the blood flow in your leg veins and identify underlying vein disease.
Comprehensive vein care facilitates the diagnosis (and treatment) of chronic venous insufficiency — not just the superficial leg veins and symptoms. Venous insufficiency is a medical condition wherein your vein valves collapse and blood pools in the leg veins, making it the root cause of most vein problems, including spider veins and varicose veins.
Treating spider veins without addressing the root cause is similar to painting a moss-infested wall without fixing the leaky pipes underneath. The stains will inevitably return because the water will continue leaking. Similarly, without comprehensive vein treatments, your spider veins are sure to return sooner or later.
Furthermore, the vein center in New Jersey provides minimally invasive vein treatments, including radiofrequency ablation, laser ablation, venaseal, clarivein, sclerotherapy, and ambulatory phlebectomy.
These are non-surgical, minimally invasive, in-office procedures that conclude within an hour with no downtime. As such, you can resume your daily activities immediately after the treatment. No hospitalization, scarring, complications, or downtime.
The vein center has a reputation for complete transparency with the treatment steps and procedure costs.
Finally, it's worth noting that the vein centers in New Jersey have a strong reputation for complete transparency. Their patients go through a detailed education process wherein they're informed of the root cause of their vein problems, the possible treatment options, and the pros/ cons of all treatments. This allows them to make informed decisions.
Furthermore, the vein center has a strict "no surprise billing" policy. This means all patients must be informed about the final cost of treatment in advance, with or without insurance coverage. The vein care staff also handles your insurance details and provides free insurance verification.
All things considered, the vein treatment centers in New Jersey are unimpeachable. If you have the signs or symptoms of vein disease, you should undoubtedly schedule an appointment with your nearest vein center in New Jersey today.
The Vein Treatment Center in New Jersey: A Review & Analysis
ultima modifica:
2021-07-02T10:26:07-06:00
da