Are Your Spider Veins and Varicose Veins Making You Unhappy?
If you're one of the millions bothered by spider veins and varicose veins, there's no time you dislike them more than during the summer. You want to spend your days lounging on the shore in the Hamptons without a care in the world. But instead, you feel self-conscious about the protruding varicose veins or colorful spider veins spreading across your legs.
You might also be bothered by concurrent symptoms like cramping, heaviness, swelling, itching, or restlessness, that prevent you from enjoying summer like you should. As beach season approaches, visit our vein center in LI to treat those veins, so you can spend your summer splashing in waves and searching for seashells, rather than worrying about how your veins look in your swimsuit.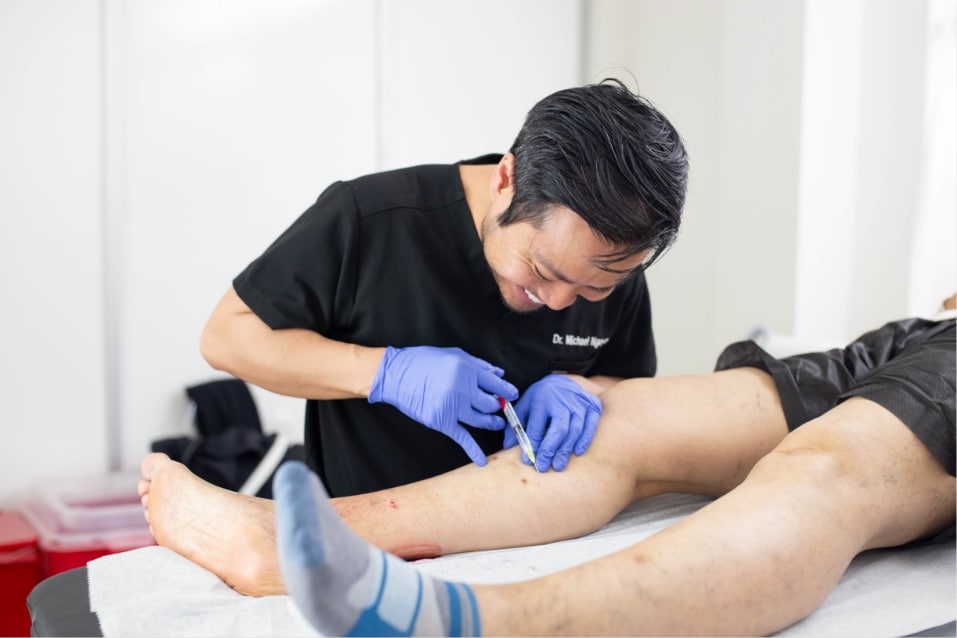 Want Varicose and Spider Vein Treatment Before Summer?
Varicose and spider vein treatment used to be more complicated, often involving surgery or several visits to a vein center. Some patients had to wait months to get an appointment, and then have a consultation, pre-op appointment, operation, and postoperative recovery. Now, most patients' veins are treated in outpatient settings with no need for surgery or hospitalization.
At our vein centers in LI, most procedures are done in 15-30 minutes. Our vein doctors use cutting edge tools to locate and treat the problematic vein simultaneously. Most patients only need one treatment, and they're able to resume activities right away. If you have a beach trip planned for this weekend, you can seek treatment and be back to full speed the very same day. Our treatments including radiofrequency ablation, Varithena, VenaSeal, and sclerotherapy are fast and effective, so you won't miss a second of summer!
Can a Vein Doctor Can Erase Your Veins by Beach Season?
Some cosmetic vein specialists offer quick treatments, but those have no staying power, if you suffer from chronic venous insufficiency. This common disease impacts venous valves and walls which allows blood to collect in the vein, stretching it into the contortions you see with varicose veins, or offshoots you see as spider veins.
If you seek vein treatment from someone other than a board certified vein doctor, your results likely won't last. Don't just seek a quick fix, seek an actual fix from a medical center for veins. Our LI vein centers provide both. Yes, we'll erase your visible veins, but also any underlying malfunction that created them in the first place. That way, you won't just have a false sense of their resolution, only to see them crop up again. Instead, you'll enjoy healthier veins throughout beach season and beyond.
Does a Minimally Invasive Procedure Require Downtime?
One of the best reasons to visit a vein center known for minimally invasive procedures is that you won't waste part of your summer in recovery. Vein stripping surgery requires downtime, including a healing process from multiple incisions. That puts a real damper on your swimming and sunning plans. But each minimally invasive procedure we use eliminates the risks, downtime, and complications involved in surgery.
Our "incisions" are merely a pin-sized entry point that requires no stitching or healing time. We don't use general or spinal anesthesia in our gentle treatments, so you're alert both during and immediately after the procedure. If you've postponed visiting a vein treatment center based on the assumption that recovery will cut into your summer, contact any of our LI vein centers to learn about rapid recovery from minimally invasive treatments.
Which Treatment Plans Work the Quickest?
The quickest way to achieve results is to start with the appropriate treatment. Some LI vein treatment centers use a generalized approach to vein care, and might not even look for the cause of your defective veins. No two patients' veins are identical, so a thorough medical history, symptom assessment, and possible lab tests and imaging are required to select the right treatment.
Once the right treatment plans are established, patients receive fast results, since an accurate diagnosis ensures the proper solution. Treatments like radiofrequency ablation, vein adhesives, and sclerotherapy are incredibly fast, and can treat both spider veins and varicose veins, as well as vein disease. The quickest method is the one that's most suited to you, so choose a board certified vein doctor to guarantee an accurate assessment.
Which Vein Treatment Center in LI Provides Fast Results?
Each of our three LI vein centers in Jericho, Lindenhurst, and Hampton Bays provides several fast treatments including pre-mixed foam injections (Varithena), vein glue (VenaSeal) and thermal energy treatments (endovenous radiofrequency ablation). Our Harvard-trained medical group leads the field in innovative solutions for rapid vein relief.
Our efficient treatment plans include quick and easy communication with our doctors and follow-up care to ensure you're pleased with your results. We take our time getting to know you, so that we don't waste time delivering perfect results. Each of our vein centers in Long Island is fully accredited, and our doctors are board certified in venous medicine, which means you'll receive the right treatment the very first time for rapid resolution of your venous issues.
Can You Book Board Certified Vein Specialists Before Summer?
Want to make those veins disappear before you head to the beach this summer? It's easy to book an appointment at any of our renowned vein centers. You can book online, give us a call, or request more information about vein treatment. Our vein specialists are passionate about what they do and always eager to answer your questions. In addition, our insurance specialists can determine your coverage before the appointment so you won't waste time filing paperwork or figuring out what treatment will cost.
Since our vein treatments are backed by the FDA, many patients' procedures are fully covered by insurance. We'll help you determine eligibility and any pre-qualifying steps to take so you can arrive ready for rapid results. Let our vein treatment center in LI provide quick relief from your damaged veins so you can focus on having fun in the sun this summer!
Can a Vein Treatment Center in LI Erase My Veins by Summer?
ultima modifica:
2021-05-19T01:03:48-06:00
da