The Best Spider Vein and Varicose Vein Clinic in the Hamptons
The Spider Vein and Varicose Vein Clinic, Hamptons, is widely considered the best vein clinic in Long Island. It's a highly accessible vein clinic located at 225 W Montauk Highway, Suite #3, in Hampton Bays, in partnership with an exceptional group of skin specialists called MDCS Dermatology. The vein clinic is also incredibly close to various neighboring regions, including Quogue, Water Mill, Montauk, South Hampton, East Hampton, and more. As such, most patients can drive over to the vein clinic within minutes.
Besides being accessible, the vein clinic also has an exceptional reputation, as evidenced by its 5-star ratings and reviews from patients. One of the vein clinic's recent patients wrote, "I have been hesitant for years to address my leg vein issues, and I'm so glad I finally did it here. The entire staff was warm and professional and made me feel at ease from the moment I walked in, which I find is rare. I was very pleased with my visit and feel confident referring them to others who are considering seeking treatment."
The vein clinic's unanimously perfect reviews indicate a perfect track record — patients often leave bad reviews if they experience discomfort, complications, major side effects, or other problems. The spider vein and varicose vein clinic maintains a perfect track record due to its exceptional vein specialist and comprehensive vein treatment process. While most vein centers treat spider veins and varicose veins without underlying the underlying problem, the vein clinic in Hamptons always performs a thorough evaluation, thereby ensuring long-lasting results.
Furthermore, the spider vein and varicose vein clinic in the Hamptons also provides free insurance verification for all patients. You can request free insurance verification immediately after scheduling your appointment. The insurance concierge will work out your insurance provider's terms and conditions, handle all the paperwork, and answer all your questions. Furthermore, the vein specialist will actively review the insurance details to help minimize your out-of-pocket financial burden. The vein clinic also follows a strict "no surprise billing" policy, so you don't have to worry about hidden charges.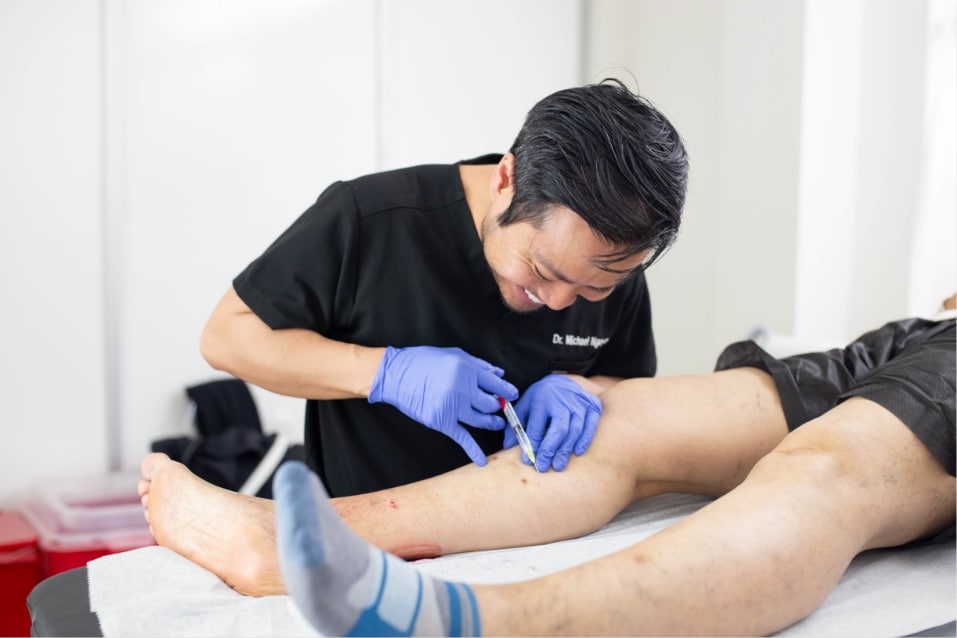 Dr. Thomas Arnold: The Best Vein Physician in the Hamptons
The Spider Vein and Varicose Vein Clinic, Hamptons, is led by an incredibly talented vein treatment specialist — Dr. Thomas Arnold. He's an incredibly talented, board-certified vascular surgeon with 25+ years of experience. He's a nationally recognized vein specialist, a Fellow of the American College of Surgeons, and a member of the Medical Society of the State of New York. He has also been recognized as the Top Doctor for over 15 years consecutively. As such, you can rest assured that you're in the best hands.
Dr. Arnold also has an exceptional educational background. He graduated from the University of Pennsylvania in Philadelphia and earned his medical degree from the State University of New York Downstate Medical Center in Brooklyn, New York. He completed his residency at the University of Pennsylvania Penn Presbyterian Medical Center and the Medical College of Pennsylvania and his vascular fellowship at Hahnemann University Hospital. He also has specialized training in vascular imaging and the latest minimally invasive vein treatments.
Dr. Arnold also happens to be incredibly kind and compassionate. He discusses all your treatment options in detail, describes the entire vein treatment process to ensure mental clarity, and answers all your questions patiently. Patients often travel from across the country to consult with him because of his immense skills and talents. He has performed hundreds of minimally invasive spider vein and varicose vein treatments without any major complications. As such, you can rest assured that you'll be treated by the best vein doctor in Long Island.
The Best Vein Treatment Process in the Hamptons
Step 1: Consultation & Diagnosis
Your vein treatment starts with a thorough initial consultation and diagnosis. The vein doctor examines your leg veins, reviews your medical history, and discusses your symptoms to determine if you have underlying vein disease, i.e., the root cause of all vein problems. He also administers a vascular imaging test (Duplex Ultrasound) to visualize the blood flow in your leg veins, thereby confirming if you have vein disease.
Step 2: Vein Treatment
The vein doctor curates the ideal vein treatment plan according to your specific needs. If you have underlying vein disease, the vein doctor recommends treatments to destroy the diseased saphenous vein. Once the diseased vein is destroyed, the accumulated blood reroutes into healthier leg veins and restores effective blood circulation. The best vein treatments include endovenous radiofrequency ablation, endovenous laser ablation, venaseal, and clarivein.
If you don't have underlying vein disease or after the primary vein treatment, the vein doctor removes the superficial varicose veins and spider veins from the skin's surface. The cosmetic treatment must be performed after the primary vein treatment — otherwise, the spider veins will simply return. The best spider vein treatment and varicose vein treatment are sclerotherapy, foam sclerotherapy, and ambulatory phlebectomy.
Step 3: Recovery & Aftercare
The vein doctor will discuss your post-treatment recovery guidelines after the vein treatment, such as wearing compression stockings and avoiding heavy lifting. However, you can resume all your daily activities and work immediately after the vein treatment — there's no downtime or major complications. At most, you may experience mild side effects like redness, swelling, discomfort, etc.
Schedule an Appointment
The Spider Vein and Varicose Vein Clinic has state-of-the-art vein clinics in the Hamptons, on the South Shore, and the North Shore of Long Island. The vein clinics are located in Hampton Bays, Lindenhurst, and Jericho, making them incredibly accessible to patients across Long Island. As such, we encourage you to schedule an appointment at your nearest vein clinic today.
Introducing the Best Vein Doctor and Vein Clinic in the Hamptons
ultima modifica:
2021-05-07T00:12:03-06:00
da