1. An Accredited Vein Center in Jericho Ensures Quality
For the millions of people with unappealing, or even debilitating, vein damage, it's great that there are so many vein treatment options on the market. However, each medicine and delivery device are a little different, and they aren't all designed for every patient. Complicating matters, different vein centers possess different levels of expertise and training with the various methods. Choosing an accredited vein center in Jericho ensures that your doctor, the facility, and the treatment methods have passed the highest test of quality and safety standards. While vein treatment is safe with capable doctors, there is the possibility of discomfort, complications, and treatment failure with inexperienced providers or inferior medicines. Select a vein center that is staffed by vein doctors and accredited by the Intersocietal Accreditation Commission for best results.
2. A Medical Group Presents More Options
Some vein treatment centers, like cosmetic and esthetic spas, address the visible nuisance of spider veins and varicose veins with skin lasers or liquid sclerotherapy. However, vein doctors have many more options to choose from, including pre-mixed foam sclerotherapy (Varithena), vein adhesives (VenaSeal), endovenous ablation techniques (Radiofrequency Ablation), and mechanochemical catheters (ClariVein). We treat those veins that you hate to see, and also the damage that you can't see in deeper veins. Our vein specialists can eliminate vein diseases like chronic venous insufficiency while simultaneously improving the appearance of your veins.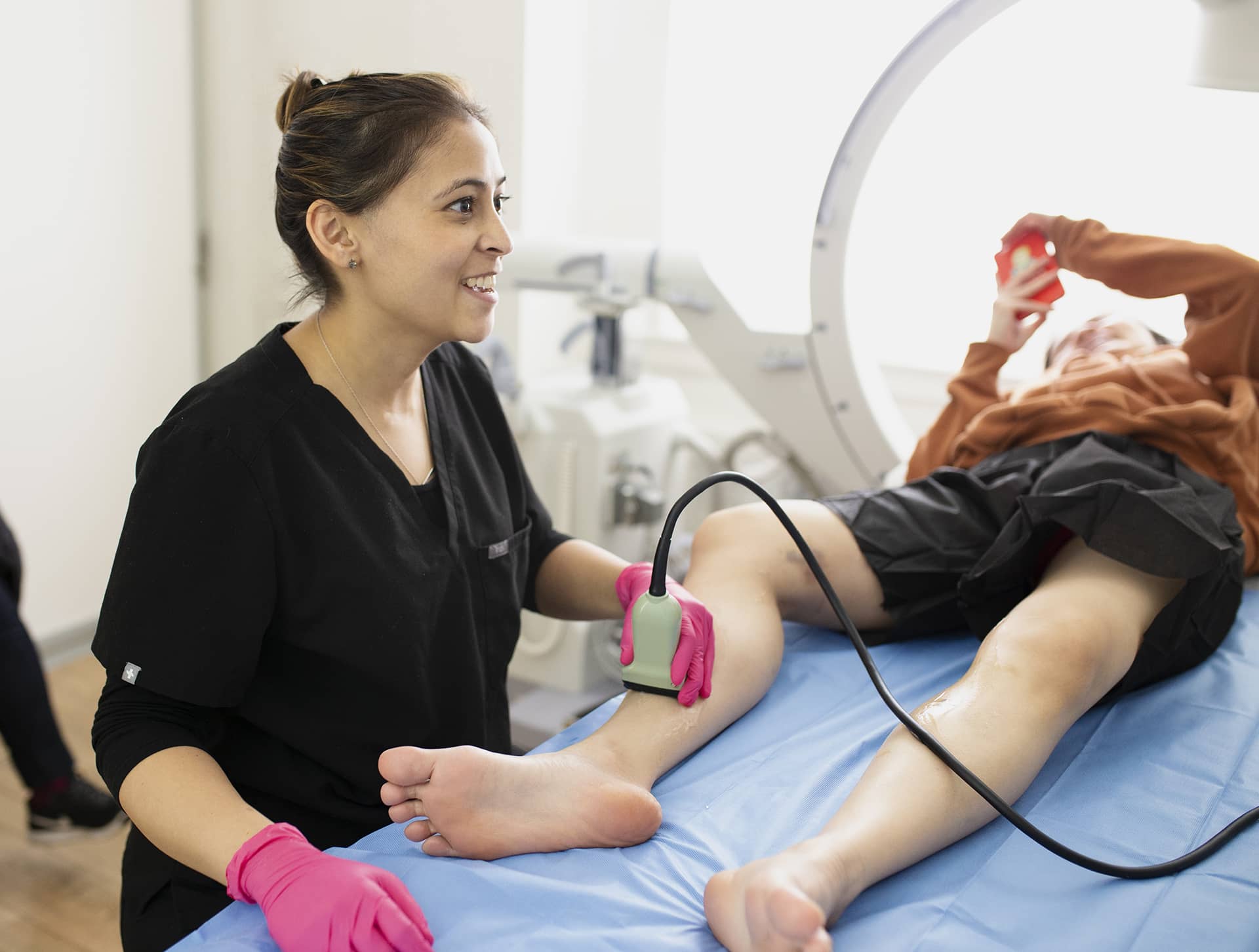 3. Board Certified Vein Doctors Have More Expertise
When doctors are board certified in venous medicine, they've spent additional time above and beyond acquiring a medical license to complete training specific to veins. It's not required of a vein center to hire board certified vein doctors, so there's a range of expertise at vein treatment centers on Long Island. Our vein center in Jericho, and all of our Long Island vein centers, are staffed exclusively by board certified vein specialists who understand all of the variables, risks, and diseases that contribute to unhealthy veins. A trained vein doctor can identify certain issues like blood clots, deep vein thrombosis, vein disease, and vein damage within deeper veins. Choosing a board certified vein physician makes a huge difference in the safety and efficacy of treatment, as well as the long-term health of your veins.
4. A Medical Veins Specialist Is Safest
If you Google "spider vein or varicose vein treatment," you might find a lot of opinions. Anyone can post anything on the internet, which leads to the proliferation of false information. You might read about DIY tips like apple cider vinegar, witch hazel, or essential oils, all of which are ineffective, and even potentially dangerous for defective veins. The skin surrounding varicose and spider veins is more sensitive, which means these topical liquids can cause an allergic reaction, skin irritation, rashes, hives, or shortness of breath. If you want to learn about DIY tips for veins, visit our medical center for safe suggestions. Leg elevation, compression stockings, and lifestyle adjustments can help your symptoms without damaging your skin. In addition to offering FDA-approved (rather than experimental) treatments, our doctors also have more training than others. We've successfully used procedures like endovenous ablation for over a decade, while some doctors are just now learning the technique.
5. Minimally Invasive Vein Doctors Avoid Surgery
While vein doctors used to routinely recommend vein surgery for tortuous varicose veins, that's no longer the case. The introduction of less invasive techniques, beginning in the 1990s, made safer, gentler, and more effective methods the first line of defense, replacing surgery for most patients. When you choose a minimally invasive medical center for veins, you benefit from this cutting-edge technology which treats complicated veins, and even vein disease without resorting to surgery. Non-medical centers can't offer many of these procedures and they lack the ultrasound imaging devices that make them so successful. Visit our state-of-the-art vein center in Jericho for groundbreaking non-surgical vein treatments.
6. Medical Groups Include Vascular Surgeons If Needed
While surgery should always be the last resort, there are certain patients who still require it. If you have a history of blood clots or a remarkably large or twisted varicose vein, removing the vein might be your best choice. While this is rare, it is possible. So, choose a medical group that favors minimally invasive methods, but can administer vein surgery if you need it. Esthetic vein specialists typically aren't board certified to conduct vein stripping surgery.
7. Spider Veins and Varicose Veins Aren't Always Superficial
If you don't like how your dilated veins look, you're not alone. Spider veins and varicose veins strike nearly 30% of adults, with 50% of women having at least one of the two. While the problem is common, your veins are unique. Your vein damage might only need a quick sclerotherapy injection to resolve a superficial issue. Or, you might have valve failure within a feeder vein that signifies vein disease. One of the main reasons to choose a medical vein center is that patients can't see what lies beneath the surface. Have our renowned vein experts examine your venous anatomy to determine if something more serious is happening in your vasculature.
8. A Medical Group Is Well-Connected
No one wants to visit a vein center only to learn the provider can't help them. Being shuffled between different facilities is a hassle that prolongs your relief. Our medical vein specialists are part of a large network of venous experts spanning the United States. We collaborate with other vein doctors, share equipment and case studies, and combine our resources so that we're the only vein center you'll ever need. We treat the tiniest spider veins, as well as the largest varicose veins, in addition to reticular veins, vein diseases, and all of the correlated symptoms. Our treatments provide lasting relief, since we have the tools to identify the root of the problem, rather than simply minimizing the veins just beneath your skin. With our Jericho vein center, your vascular care will be complete.
8 Reasons to Choose a Medical Vein Center in Jericho
ultima modifica:
2021-04-19T08:03:43-06:00
da